Addressing a new mobility is the most important issue facing the automotive industry. A transformation that must consider the "colour palette" that makes up sustainability in its entirety. Investing in human capital, moving towards emission neutrality, and adapting to the new needs and demands of society are just some of the levers that underpin this change, and that will allow us to maintain competitiveness in our sector. And it is this path towards a sustainable industry, its challenges and opportunities, which was addressed on 21 October during the sixth edition of the BATZ Innovation Summit at the AIC-Automotive Intelligence Center.
Under the topic Integrating sustainability in the automotive industry. A strategic priority towards the new mobility, the conference addressed this transition from the different dimensions that make up sustainability with the help of leading figures in this field.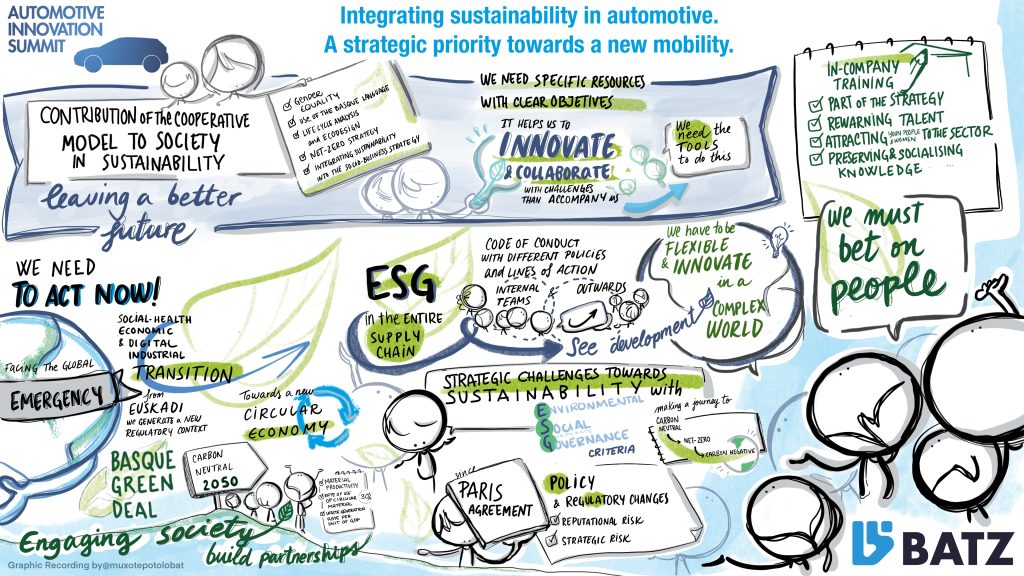 Thus, the session began with a review of the objectives set by the Basque Government with a special focus on the energy transition and the Basque Green Deal, by Amaia Barredo, Deputy Minister of Environmental Sustainability of the Basque Government. Pablo Telleria, Senior Advisor of the consultancy firm Roland Berger, then gave a holistic view of sustainability, its integration in the strategy and the journey towards the decarbonisation of the supply chain. Susana Molinuevo, Director of Compliance and ESG at CIE Automotive, was the person in charge of landing the environmental, social and corporate governance dimensions in the organisation, sharing her experience in the implementation and development of its key and critical aspects; and closing this first block, Aitor Ruiz, Director of Knowledge Management at the Basque Automotive Cluster ACICAE, addressed issues related to human capital and the importance of its development and training in order to make the industry sustainable. Under the name MONDRAGON Response, the second part of the session featured the participation of Ibon Antero, Head of Social Transformation and Sustainability at MONDRAGON, and Carles Puit, Operations Director at the BATZ Group, who analysed the principles of cooperativism and its close relationship with the bases of sustainable development, the integration of the triple ESG dimension in MONDRAGON's social and business policy 2021-2024, and they set out the major challenges facing supplier companies in the automotive sector in the field of sustainability.The day concluded with a round table coordinated by Gonzalo Garrido, Head of Communications at ACICAE.
The aim of these annual meetings is to identify the challenges and opportunities that arise in this sector and to encourage reflection and the exchange of ideas with key players in the automotive ecosystem. In short, a commitment to generate value and promote knowledge through dissemination.
And if you couldn´t join us, you can access the recording of the session through this link. (available only in Spanish language)